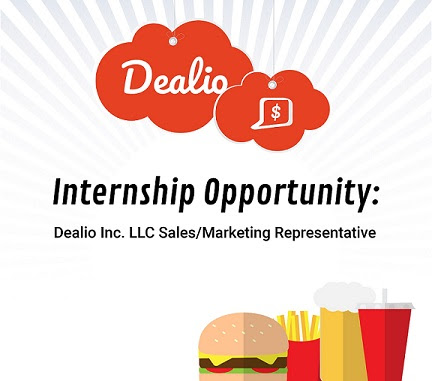 My name is Kit Ryan I work for Dealio Inc. LLC.  Dealio is an application that shows users local food and drink deals. Dealio focuses on saving people time and money by showing them all their local deals and providing them exclusive content they can't get anywhere else!
Download Dealio today and receive a buy one get one free pizza fries from Iv deli!
Dealio is currently hiring for our UCSB Sales/Marketing Representative position.
If you are interested in learning more about our internship opportunity, email your resume to kit@localdealios.com
I have included a brief job description below, as well as our website and internship video. Please contact me if you are interested in interviewing for our internship or have any questions!
Kit Ryan
Co-Founder/CEO
Kit@localdealios.com
4089604453
Internship Opportunity: Dealio Inc. LLC Sales/Marketing Representative
As a Sales Representative you will:
•       Learn the steps of the sales process
•       Step outside of his/her comfort zone learning about his/her local community: this is NOT a desk job
•       Learn pertinent inter-personal communication skills
•       Learn how to build professional sales relationships with local businesses
•       Learn how to prospect new and renewal clients
•       Become experts in time and account management
•       Gain professional sales knowledge
•       Gain resume building skills
We want people who are:
·            Confident, driven, competitive and obsessed about their future
·            Great listeners who love to work with people
·            Goal-oriented people who like working alone as much as they like working with a team
·            Willing to constantly learn, improve, and adapt quickly
·            Excited about discovering and exploring Santa Barbara
·            Versatile; building relationships across many verticals
Job Requirements:
·            A car
·            Housing near UCSB (or a university that we work with)
Check out our instagram: https://www.instagram.com/localdealios/
Check out our Facebook: https://www.facebook.com/localdealios/
Apply Online at: http://localdealios.com/apply